Situated at the northern gateway of the Lee Gardens area, Hysan Place is one of the Group's flagship properties offering Grade A offices and a vertical shopping mall.
Its rooftop urban farm is also one of the key sustainability features applauded by many.
716k ft2
Approx. Gross Floor Area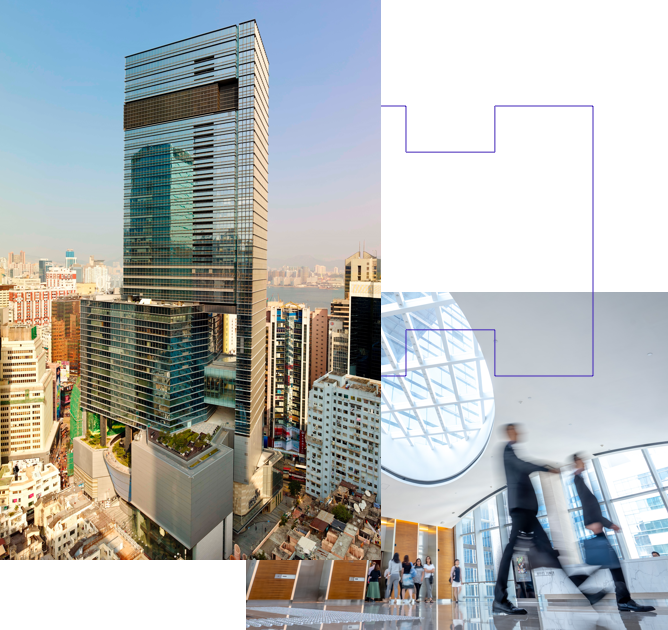 Office
Hysan Place offers 15 floors of Grade A office space and ground and sky lobbies. Situated at the northern gateway to Hysan's portfolio, Hysan Place offers panoramic harbour views from every floor, plus a wealth of green building features that conform to the highest international standards of sustainability.
Space and Facilities
Typical Floorplate (sq ft lettable)
15,993 – 16,481
Efficiency (typical whole floor)
Approx. 92%
Clear Headroom
3.10m
Curtain Wall to Core Wall Depth
Approx. 13.7m to 15.1m
Ceiling System
The false ceiling comprises suspended metal ceiling tiles with lighting and air-conditioning outlets set in a modular layout, wide grid system with in-laid ceiling panels and ceiling tiles perforated in-fill panels with sound absorbent material.
Flooring and Trunking System
150mm raised access floor system comprised 600mm (W) x 600mm (H)
Floor Loading
4kPa (live load)
1kPa (partition)
Air Conditioning System
Direct digital control
Variable air volume
24 hours tee-off chilled water pipes
Certifications & Awards
2014
VIVA "Best of the Best" Award for Sustainable Design and Development
The International Council of Shopping Centers
2013
Global Awards for Excellence
The Urban Land Institute
2013
Gold and Sustainable Design Award winner in the New Development category of the International Council of Shopping Centers
Asia Pacific Shopping Center Awards
2012
Gold Award winner, Best Mixed-Use Development
MIPIM Asia Awards
2012
Green Building Award
Merit Award, New Building, Hong Kong (Building under Construction)
LEED (Building Design and Construction) Platinum
U.S. Green Building Council
BEAM Plus Platinum
Hong Kong Building Environmental Assessment Method
Retail
Located at the heart of Causeway Bay with direct access to the MTR station, Hysan Place showcases an enviable selection of nearly 120 sought-after shops and restaurants spanning over 17 floors.
It's a place for you to hang out, have fun, and share unforgettable shopping experiences with friends and family. Enjoy the generous high ceiling with open shop fronts, stroll along the atrium sprinkled with natural light via the huge central skylight, or linger at the Sky Garden with lush greenery. For more information visit www.leegardens.com.hk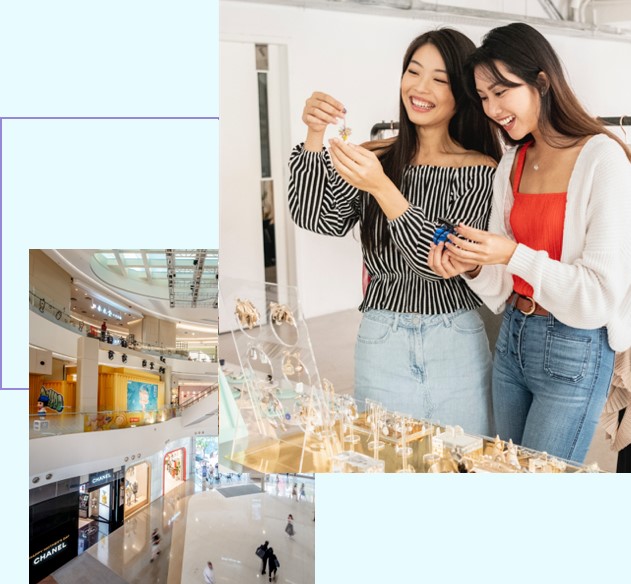 1

Atrium

Come to Hysan Place's atrium for the ultimate in displays, exhibitions, performances and pop-up sales. This space has become the beating heart of Causeway Bay.

2

Wetland

Our Sky Wetland helps to clean grey water from Hysan Place's office floors and recycle it for irrigation use. It is truly an oasis that promotes green education.